Mutiyar Lyrics | Karaj Randhawa
Mutiyar Lyrics by Karaj Randhawa
Mutiyar Lyrics by Karaj Randhawa is Latest Punjabi song sung by Karaj Randhawa and of this brand new song is featuring Swalina. Mutiyar song lyrics are penned down by Prince Rakhdi while music is given by Mxrci and video is directed by Bhinddeer Burj.
Song Details:
Starring:
Karaj Randhawa, Swalina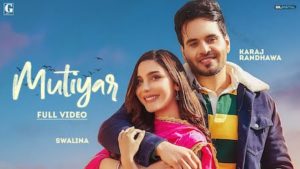 Mutiyar Lyrics in Punjabi
Mxrci!
Ve Gal Mere Da Banja
Rani Haar Sohneya
Main Teri Sardarni
Tu Sardar Sohneya
Gal Mere Da Banja
Rani Haar Sohneya
Main Teri Sardarni
Tu Sardar Sohneya
Haq Gabru Aa Poora Tera
Mere Te
Koonj Wargi Mutiyar
Ve Mar Gayi Tere Te
Koonj Wargi Mutiyar
Ve Mar Gayi Tere Te
Ve Mar Gayi Tere Te
Ve Mar Gayi Tere Te
Bola Naa Main Tethon Sangdi
Viah Laija Kujh Hor Na Mangdi
Bola Naa Main Tethon Sangdi
Viah Laija Kujh Hor Na Mangdi
Rang Laa Chooda Baanhi Paa De
Meri Ve Tu Maang Saza De
Meri Ve Tu Maang Saza De
Takdi Rehndi Tainu Main Khad
Khad Banere Te
Koonj Wargi Mutiyar
Ve Mar Gayi Tere Te
Koonj Wargi Mutiyar
Ve Mar Gayi Tere Te
Ve Mar Gayi Tere Te
Ve Mar Gayi Tere Te
Mehndi Laun Nu Dil Mera Karda
Jatta Bin Tere Na Sarda
Jatta Bin Tere Na Sarda
Mehndi Laun Nu Dil Mera Karda
Jatta Bin Tere Na Sarda
Channa Laike Aaja Jann Ve
Laija Mainu Sehre Bann Ve
Laija Mainu Sehre Bann Ve
Prince Rakhdi Noor Vekh Ve
Mere Chehre Te
Mere Chehre Te
Koonj Wargi Mutiyar
Ve Mar Gayi Tere Te
Koonj Wargi Mutiyar
Ve Mar Gayi Tere Te
Ve Mar Gayi Tere Te
Ve Mar Gayi Tere Te
Mutiyar Lyrics - Karaj Randhawa