Sheikh Chilli Lyrics
Sheikh Chilli Lyrics sung by "Raftaar" (Yeh Diss Gaana Nahi Hai) Music of the song is given by Raftaar, Instine while Written & Performed By Raftaar.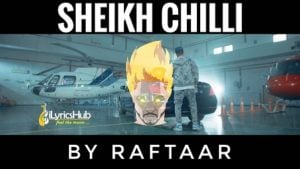 Song Details:
Song Details:
Song: Sheikh Chilli
Singer: Raftaar
Music: Raftaar, Instine
Written & Performed By Raftaar
Video By Director Grim
Sheikh Chilli Lyrics in HIndi
Ye Raftaar…! I'm Sad Ye Karna Pada Yaar
Aei Sheikh Chilli Aei Sheikh Chilli
Aei Sheikh Chilli Aei
Sun…! Tu Bhai Nahi Yaani Ki Bantai Nahi Hai
Tu Bantai Chodd Tu To Banda Hi Nahi Hai
Chupp Rehana Mera Banta Hi Nahi
Mujhe Sab Dikhta Hai Meri Band Eye Nahi Hai
Tera Bhai Babu Bhund High Nahi Hai
Wo Sach Bolta Hai Sach Jamta Hi Nahi Hai
Tere Mera Jaise Bohat Kare Kaam Par
Scene Me Koi Khaas Jada Dhanda Hi Nahi
Sachai Yahi Hai Ki Opportunity Nahi
Sachai Yahi Hai Logo Me Nahi Unity
Ego Hai Pahad Pe
Yeh Khud Chane Ke Jhaad Pe
Yeh Khudki Mudke Chaatein Bole
Duniya Mujhko Poojti
Main Tera Bhai Tera Bhai
Jo Tu Ni Mera Bhai To Tabahi Hai Tabahi
Tu Hoga High Mere Bhai
Jo Tune Sunke Interview Akal Nahi Chalai
Kadak Bann Mat Bann Tu Dhokla
Akalmand Nahi Chotte Tu To Nikla Dogala
Ladakpan Me Bhi Nikla Not Hard
Sadak Band Age Band Naaka Tere Road Ka
Yaad Dilaaun Kya Aye Aye
Yaad Dilaaun Kya Choteeee
Yaad Dilaaun Kya Yaad Dilaaun
Tu Milne Ko Aaya Tha Maine Bulaya Tha
Saath Bithaya Tha Khana Khilaya Tha
Wapas Na Bheja Hotel Me Sulaya
Bandra Ke Stdio Me Booking Karaya
Purple Haze Stdios Naam Yaad Main Aaya Kya
Stdio Wala Kiraya Tujhse Bharaya Kya
Apne Se Peeche Bataya Kya
Apne Se Niche Dikhaya Kya
Apne Seene Se Lagaya Tha
Kitni Khushi Se Main Gana Karaya Tha
Dubb Tera
Tab Tera Tewar Alag Tha Tu Ladka Kadak Tha
Mujhe Aaya Tujhpe Pyaar Gajab Ka
To Likha Tera Aadha Verse Sadak Ka
Aaja Muqadma Bithata Hu
Sadma Laga Hai To Baad Me Aata Hu
Tujhko To Yaad Hi Hoga Jo Yaad Nahi Hai
To Yaad Dilata Hu
Viral Na Hota Se Label Ka Rokk Nahi
Ye Lineon Ka Raaz Tu Kabhi Nahi Kholega
Maa Ki Kasam Mujhe Ab Teri Baari
Tu Sachcha Musalman Hai Jhoot Nahi Bolega
Jhoot Nahi Bolega Yeh Ladka Jhoot Nahi Bolega
Yeh Ladka Kuch Bhi Ni Bolega
Thoda Bhi Ab Ye Mute Hi Ho Lega
Dukh Hai Ki Mujhko Batana Pada
Jatana Nahi Tha Jatana Pada
Mere Ghar Pe Tu Dish Kha Ke Mujhpe Hi Diss Laya
Mujhko Bhi Langar Lagana Pada
Nache Tu Flow Me Aye
Mere Delhi Ke Show Pe Aye
Maine Sabse Milaya Tha Aye
Khud Peeche Ko Hoke
Mumbai Me Show Tha Tu Mera Bro Tha
Bro Hi Na Hota To Show Pe Na Hota
Maine Tujhse Sirf Ijjat Dilaayi Hai
Bhai Ko Dukh Hai Ki Ijjat Pe Aayi Hai
Ijjat Kamake Na Ijjat Gawa
Show Pe Jo The Wo Hai Mere Gawah
Ungli Daba Chotte Mutthi Bana
Gussa Tu Kar Par Na Mooh Ko Sada
Bachpana Bachpana
Bachjkaani Baate Band Kafr Zara Sach Bata
Paise Ki Baat Hi Nahi Thi
Maine Bola Divine Bada Hai Tu Tab Sada
Aaj Ka Sach Yahi Ki Haal
Filhaal Uski Ijjat Badi Hai, Badi Hai
Tu Picture Me Aaraha Hai Chotte
Naezy Aur Uspe Wo Picture Bani Hai
Chalti Hai Gully Gully Gully Gang
Tabhi To Emi Ki Jali Jali Jali Gand
Halki Hai Baate Heavy Bass Slang
Kal Ka Hai Tu Hulka Hai Tera Plan
Samajh Mein Aaya Kya?
Maggajh Mein Aaya Kya?
Yaad Mein Aaya Kya?
Main Tere Baad Main Aaya Kya?
Chillane Se Bante Gaane Kya?
Chillane Se Bante Shayaane Kya?
Yede Chale Karke Public Ko Banare
Ye Public Main Andhe Kaane Kya?
Janta Ki Shamta Hai Mamta Bhi Degi
Aur Janta Nahi Hai To Ghanta Hi Degi
Baaton Ka Matlab Badal Ke Batane Se
Soche Ke Jaldi Se Janta Badhegi
Bhai Se Sidha Se Chotte Pe
Umar Main Mujhse Ye Chotte Hai
Sikha Maine Tujhko Apna Bana Ke
Ki Apne Hi Kamine Hote Hai
Kamine Hote Hai
Apne Hi Kamine Hote Hai
Samajh Main Aa Gaya Chotte
Mujhko Samajh Mein Aa Yaga
Aye Ha Chal Kuch Baat Aur
Dhayan Se Sunana
Tu Mujhe Chotta Bola Kyuki Ego Teri Hurt Hai
Main Tujhe Chotta Bola Kyuki 8 Saal Ka Karq Hai
Chotte Tu Sahrukh Nahi Sahrukh Bass Ek Hai
Aur Tu Shahrukh Sheikh Nahi Shahrukh Snake Hai
Hisssssssssss
Sachai Hai Ye Gaana Nahi Disssss
Samajh Mein Aaya Kya?
Sheikh Chilli Lyrics