Choco Lyrics by Emiway
Choco Lyrics by Emiway is brand new Hindi Rap song sung by Emiway Bantai and music of this latest song is given by Cheap Thrillz. Choco song lyrics are also penned down by Emiway Bantai himself and video has been directed by Happy & Emiway Bantai.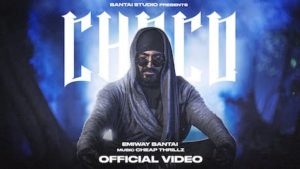 Choco Song Details:
Song: Choco
Singer: Emiway
Lyrics: Emiway
Music: Cheap Thrillz
Label: Bantai Studio
Choco Lyrics in Hindi
Alright
Maloom Hai Na
Aaha Kya Bolte Woo!
Haan Metaphore Sikha Rahe Saale
Main Toh Kitne Pehle Se Dikha Raha
Puraane Gaane Ko Sunn
Inhein Likhne Bhi Nahi Aa Raha
Main Toh Dikhne Mei Nai Aa Raha
Kyunki Behre Inke Kaan
Mera Naam On Demand
Rapper Kar Rahe Mazak
Main Toh Karu Comedy Band
Mohammad Ali Ban
Bola Meine Khud Ko
'Cause I Got No Competition
Sau Pratishat Bolun Khud Ko
One Man Army Main Tsunami
Main Suna Ni Kisi Ki
Risk Hi Liya Jabhi Bhi Khiski
Biscuit Jaise Mithe Weak Hai Thik Hai
Karvake Rahenge Bezti
Rapper Nahi Hai Ugli Hai Yeh
Chaat Rahi Mujhe Baar Baar
Main Lagra Kaafi Tasty
Yeh Hag Rahe Kaafi Basic
Mera Flow Usain Bolt Wali Racing
Yeh Chapri Meri Dressing
Mere Kabhri Baithe Main Strem
Ha Khabar Dere Mujhe
Sabki Khabar Khudnewali
Ch*dne Wale Apun
Taiyar Hoja Inki Ch*dne Wali
Sabko Khatam Karna Jaanta Hoon
Kyunki Mere Criminal Thoughts
Le Mera Sausage Nahi Karna Diss
Kill Em With Subliminal Shots Karun
Main Pause Career Inka
Pehle Nazdeek Toh Pohncho
Sabko Khatam Karna Jaanta Hoon
Kyunki Mere Criminal Thoughts
Le Mera Sausage Nahi Karna Diss
Kill Em With Subliminal Shots Karun
Main Pause Career Inka
Pehle Nazdeek Toh Pohncho
Pehle Nazdeek Toh Pohncho Pahonch Toh
Uske Baad Meri Socho Baad Mein
Ah Mil Gaya Toh Haan Aao Phir
De Dunga Choco
Pehle Nazdeek Toh Pohncho
Haan Pahonch Toh Gaye
Uske Baad Meri Socho
Agar Mil Gaya Toh HaHaHa
De Dunga Choco
Dekhna Payega Tere Bhai Ka Gussa
Tu Marwayega Madagaskar
Jitna Bada Island Bantai Banvayega
Bhadkayega Bhatkayega
Fans Ko Kaise Badh Payega
Bhid Payega Mere Se Phir Bhi
Kabhi Na Jeet Payega Thu
Kyuki Mera Alag Hi Level Hai
Antop Hill Se Seedha Banda
Beta Pahuchega Beverly Hill
Ready To Kill Sandwiching Words
Seedha Grill Chahe Drill Ho
Ya Chop Rap I Never Chill
Beat Pe Replay Hogi Itni Speed Se
Kare Light Bhi Na Travel
Kyuki Main Hoon Beat Pe
Deep Hai Mere Batcheet
Samandar Se Bhi Zyada
Samajh Mein Aaya Kya Banaya
Jab Samajh Mein Nai Aaya
Phir Pata Chala Sabko Ki
Main Kitna Bada Madarch*D Hu
Mere Tak Mere Barabari Karne Wala
Aaye Toh Phir Kaise Chodun
Chal Bey Ch*dun Bolke
Main Toh Kitnon Ko Chhodun
Hathon Ko Jado Kyuki Baap Hoon Main
Samjha Kya Lodu
Jab Bhi Jata Hu Main Ho Jata
Woh Gardi Bheed
Sabke Bheje Mein Ghusa Main
Jaise Main Hoon Centipede
Hoon Main Grown Up Man
I Don't Really F*ck Wid Kid
Feel Like Pokemon
Kyuki Har Bar Kiya Vikasit
Happy V Break
Mere Liye Bane Cole Bennet
Chahiye Mudda Shawty Ko
Bol Tere Ake Suck My D*ck
Kafi Khajwe Bole Internet Pe
Beta Hoon Patel
Aise Log Ko Bolu Main
Kabhi Mujhe Samne Dikh
Sabko Khatam Karna Jaanta Hoon
Kyunki Mere Criminal Thoughts
Le Mera Sausage Nahi Karna Diss
Kill Em With Subliminal Shots Karun
Main Pause Career Inka
Pehle Nazdeek Toh Pohncho
Sabko Khatam Karna Jaanta Hoon
Kyunki Mere Criminal Thoughts
Le Mera Sausage Nahi Karna Diss
Kill Em With Subliminal Shots Karun
Main Pause Career Inka
Pehle Nazdeek Toh Pohncho
Pehle Nazdeek Toh Pohncho Pahonch Toh
Uske Baad Meri Socho Baad Mein
Ah Mil Gaya Toh Haan Aao Phir
De Dunga Choco
Pehle Nazdeek Toh Pohncho
Haan Pahonch Toh Gaye
Uske Baad Meri Socho
Agar Mil Gaya Toh HaHaHa
De Dunga Choco
I Never Leave My Position
'Cause I've Been Thinking About
How Can I Do More Better
Rappers Sounding Hipidie Bow
Picked Em All Put Up In The Glass
Then M Drinking Em All
Looking For Some Beef Come And Kneel
Everybody's Takin Bow Front Of Me
'Cause Ma Songs Therapy
Everybody's Taking A Hit
Like My Songs Cannabi
I Be Chilling Like A Villain
Like M Bob Marley
Leaving Motherfu*Kers Behind
Like M On Harley
Damn Son
Choco Lyrics - Emiway