Kaafle Lyrics by Singga
Kaafle Lyrics by Singga ft. Gurlez Akhtar is brand new Punjabi song sung by Singga, Gurlej Akhtar and this latest song is featuring Aneet Chohan. Kaafle song lyrics are also penned down by Singga while music is given by Big Kay Smg and video has been directed by Rahul Chahal.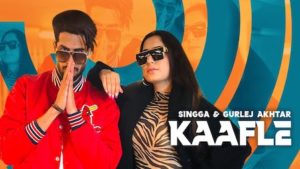 Kaafle Song Details:
Song: Kaafle
Singer: Singga, Gurlez Akhtar
Lyrics: Singga
Music: Big Kay SMG
Starring: Singga, Aneet Chohan
Label: Times Music
Kaafle Lyrics in Punjabi
Aaha, SMG!
Ho Nikle Aa Kaafle
Mud'de Na Pichhe Aa
Dass Mainu Dass Mainu
Vadda Vaili Kithe Aa
Nikle Aa Kaafle
Mud'de Na Pichhe Aa
Dass Mainu Dass Mainu
Vadda Vaili Kithe Aa
Vadda Vaili Kithe Aa
Ho Bas Kar Bas Jatta
Kinni Att Karega
Ehi Haal Reha
Lagda Tu Chheti Marega
Ho Bas Kar Bas Jatta
Kinni Att Karega
Ehi Haal Reha
Lagda Tu Chheti Marega
Lagda Tu Chheti Marega
Ho Life Aa Ghatt Billo
Ankhi Aa Jatt Billo
Jinna Naal Vair Sadda Aa
Maari Di Satt Billo
Passe Tu Hatt Billo
Bin Sadde Katt Billo
Sehne Paine Sadde Naal
Rehke Tainu Phatt Billo
Jo Jo Vi Singge Naal
Khainde Aa Balliye Ni
Kass Dene Nutt Billo
Kass Dene Nutt Billo
Ho Thokange Vairi Billo
Thokange Vairi Billo
Thokange Vairi Billo
Jehde Jehde Mithe Aa
Nikle Aa Kaafle
Mud'de Na Pichhe Aa
Dass Mainu Dass Mainu
Vadda Vaili Kithe Aa
Nikle Aa Kaafle
Mud'de Na Pichhe Aa
Dass Mainu Dass Mainu
Vadda Vaili Kithe Aa
Vadda Vaili Kithe Aa
Ho Range Teri De Jatta
Tyre Nahio Fadd'de
Rakhda Ae Naal Bande
Chadhde Ton Chadhde
Ho Range Teri De Jatta
Tyre Nahio Fadd'de
Rakhda Ae Naal Bande
Chadhde Ton Chadhde
Pata Si Mainu Jatta
Pata Si Mainu Jatta
Ve Pata Si Mainu Tu Hunn
Nawa Hi Bamb Dharega
Ho Bas Kar Bas Jatta
Kinni Att Karega
Ehi Haal Reha
Lagda Tu Chheti Marega
Ho Bas Kar Bas Jatta
Kinni Att Karega
Ehi Haal Reha
Lagda Tu Chheti Marega
Lagda Tu Chheti Marega
Achha Aidan Nai Marda Jatt
Ho Gaadar Ne Yaar Billo
Asla Te Yaar Billo
Jo Jo Rakhda Khaar Billo
Oh Banda Dinde Maar Billo
Rehnde Naal Char Billo
Rakhde Talvar Billo
Bari Hoke Ghummde Aa
Court'on Har Baar Billo
Bari Hoke Ghummde Aa
Court'on Har Baar Billo
Ho Judge Vi Aa Fan Ho Gaya
Haan Judge Vi Aa Fan Ho Gaya
Judge Vi Aa Fan Ho Gaya
Katte Jehde Sitte Aa
Nikle Aa Kaafle
Mud'de Na Pichhe Aa
Dass Mainu Dass Mainu
Vadda Vaili Kithe Aa
Nikle Aa Kaafle
Mud'de Na Pichhe Aa
Dass Mainu Dass Mainu
Vadda Vaili Kithe Aa
Vadda Vaili Kithe Aa
Ho Suneya Main Tere Baare
Gallan Lok Karde Si
Munh De Te Darde Hone
Pith Te Vi Darde Si
Ve Suneya Main Tere Baare
Gallan Lok Karde Si
Munh De Te Darde Hone
Pith Te Jo Darde Si
Singgeya Tu Chowk Dupehre
Singgeya Tu Chowk Dupehre
Ve Singgeya Tu Chowk Dupehre
Lagda Band Karega
Ho Bas Kar Bas Jatta
Kinni Att Karega
Ehi Haal Reha
Lagda Tu Chheti Marega
Lagda Tu Chheti Marega
Kaafle Lyrics - Singga