Teri Jatti Lyrics by Kaur B
Teri Jatti Lyrics by Kaur B is brand new Punjabi song sung by Kaur B and music of this latest song is given by Black Virus. Teri Jatti song lyrics are penned down by Bablu Sodhi while video has been directed by Dimple Bhullar.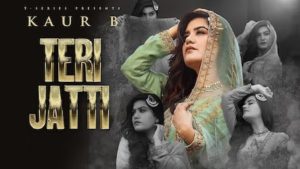 Teri Jatti Song Details:
Song: Teri Jatti
Singer: Kaur B
Lyrics: Bablu Sodhi
Music: Black Virus
Label: T-Series
Teri Jatti Lyrics in Punjabi
Black Virus!
Addeya Teri Jatti Utte
Marde Kayi Gabbru Ve
Raahan Vich Phull Laike
Haaye Khadd De Kayi Gabbru Ve
Pairan Vich Jutti Mundeya
Mehnge Ne Suit Kudi De
Addeya Ve Follow Karde
Munde Kayi Route Kudi De
Munde Kayi Route Kudi De
Nakhre Da Jhukk Jhukk Ke
Mull Bharde Ne Gabbru Ve
Addeya Teri Jatti Utte
Marde Kayi Gabbru Ve
Raahan Vich Phull Laike
Haaye Khadd De Kayi Gabbru Ve
Addeya Teri Jatti Utte
Marde Kayi Gabbru Ve
Raahan Vich Phull Laike
Haaye Khadd De Kayi Gabbru Ve
Khadd De Kayi Gabbru Ve
Jatta Ve Tere Pichhe
Panj Satt Rishte Mode
Ik Do Nai Kayi Mundeyan De
Tere Layi Dil Tode
Tere Layi Dil Tode
Jatta Ve Tere Pichhe
Panj Satt Rishte Mode
Ik Do Nai Kayi Mundeyan De
Tere Layi Dil Tode
Taan Hi Taan Tere Kolon
Sarde Ne Gabbru Ve
Addeya Teri Jatti Utte
Marde Kayi Gabbru Ve
Raahan Vich Phool Laike
Haaye Khadd De Kayi Gabbru Ve
Addeya Teri Jatti Utte
Marde Kayi Gabbru Ve
Raahan Vich Phool Laike
Haye Khadd De Kayi Gabbru Ve
Karde Mere Adab Sohneya
Pher Vi Gall Torugi
Bablu Sodhi Tere Naal
Har Haal Mein Jodugi
Har Haal Main Jodugi
Karde Mere Adab Sohneya
Fer Vi Gall Torugi
Bablu Sodhi Tere Naal
Har Haal Main Jodugi
Jitt Leya Dil Ohda
Jih Ton Harde Kayi Gabbru Ve
Addeya Teri Jatti Utte
Marde Kayi Gabbru Ve
Raahan Vich Phull Laike
Haaye Khadd De Kayi Gabbru Ve
Addeya Teri Jatti Utte
Marde Kayi Gabbru Ve
Raahan Vich Phull Laike
Haaye Khadd De Kayi Gabbru Ve
Khadd De Kayi Gabbru Ve
Adhoora Reh Gaya Phir Ton
Wohe Galbaat Da Masla
Te Poora Ban Gaya Aukha
Eh Halaat Da Masla
Khadi Reh Gayi Mohabbat
Pher Toot Ke Choor Ek Passe
Te Laike Beh Gaya
Saanu Eh Bhaida Jaat Da Masla
Khadd De Kayi Gabbru Ve
Teri Jatti Lyrics - Kaur B