Chunni Lot Lyrics by Nimrat Khaira is brand new Punjabi song from album Nimmo and this latest song is featuring Gurtej Baidwan. Chunni Lot song lyrics are penned down by Arjan Dhillon while music is given by Yeah Proof and video has been directed by Arsh Singh, Mandy Singh, Savvy Singh.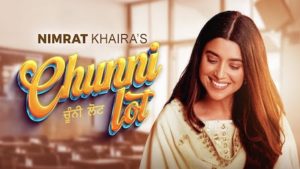 Chunni Lot Song Details:
Song: Chunni Lot
Album: Nimmo
Singer: Nimrat Khaira
Lyrics: Arjan Dhillon
Music: Proof
Starring: Nimrat Khaira, Gurtej Baidwan
Label: Speed Records
Chunni Lot Lyrics
Yeah Proof!
Mitran Nu Kehnda Gall Daa Na Deyo
Mitran Nu Kehnda Gall Daa Na Deyo
Naale Aape Saari Gall Dassda Phire
Chunni Lot Kardi Ne Takk Ki Leya
Hath Muchhan Utte Phere Naale Hassda Phire
Chunni Lot Kardi Ne Takk Ki Leya
Hath Muchhan Utte Phere Naale Hassda Phire
Puchhda Ae Pind Naale Puchhe Mera Naa
Te Raahan Vich Raah Hoya Phire Khamakha
Puchhda Ae Pind Naale Puchhe Mera Naa
Te Raahan Vich Raah Hoya Phire Khamakha
Kehde Vehle Kithon Main Cross Karna
Kehde Vehle Kithon Main Cross Karna
Nigaah Paid Paid Utte Rakhda Phire
Chunni Lot Kardi Ne Takk Ki Leya
Hath Muchhan Utte Phere Naale Hassda Phire
Chunni Lot Kardi Ne Takk Ki Leya
Hath Muchhan Utte Phere Naale Hassda Phire
Ranjha Jivein Heer Diyan Cheliyan De Kol
Paunda Phirda Sifarisha Saheliyan De Kol
Ranjha Jivein Heer Diyan Cheliyan De Kol
Paunda Phirda Sifarisha Saheliyan De Kol
Hatha Utte Duniya Nachaun Jehdiyan
Hatha Utte Duniya Nachaun Jehdiyan
Ohna Diyan Unglan Te Nachda Phire
Chunni Lot Kardi Ne Takk Ki Leya
Hath Muchhan Utte Phere Naale Hassda Phire
Chunni Lot Kardi Ne Takk Ki Leya
Hath Muchhan Utte Phere Naale Hassda Phire
Kehnda Sifat Ch Likhde Koyi Geet Naar De
Arjan Hori Ohde Pakke Yaar Ne
Kehnda Sifat Ch Likhde Koyi Geet Naar De
Arjan Hori Ohde Pakke Yaar Ne
Kudiyan Ton Wadh Sange Munda Haan Da
Kudiyan Ton Wadh Sange Munda Haan Da
Aake Karda Ni Gall Aivein Jakda Phire
Chunni Lot Kardi Ne Takk Ki Leya
Hath Muchhan Utte Phere Naale Hassda Phire
Chunni Lot Kardi Ne Takk Ki Leya
Hath Muchhan Utte Phere Naale Hassda Phire
Mitran Nu Kehnda Gall Daa Na Deyo
Mitran Nu Kehnda Gall Daa Na Deyo
Naale Aape Saari Gall Dassda Phire