Chubby Girl Lyrics by Davy
Chubby Girl Lyrics by Davy ft. Simar Kaur is brand new punjabi song sung by Davy, Simar Kaur and this latest song is featuring Pranjal Dahiya. Chubby Girl song lyrics are penned down by Davy while music is given by Gur Sidhu and video has been directed by Gavy Khaira.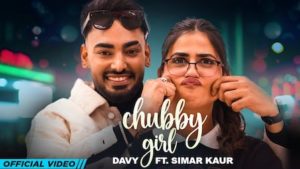 Chubby Girl Song Details:
Song: Chubby Girl
Singer: Davy, Simar Kaur
Lyrics: Davy
Music: Gur Sidhu
Starring: Pranjal Dahiya
Label: Times Music
Chubby Girl Lyrics
Gur Sidhu Music!
Teriyan Ankhan Haaye Billiyan
Baar Baar Dekhne Nu Jee Karda
Chubby Chubby Cheek Tere Pattne Repeat Tere
Ki Karaan Dass Tera Gugglo Jehi Da
La La La La La
La La La La La…
Aivein Mainu Maske Na La Mundeya Oh
Gallan Mithiyan Ch Na Phasa Mundeya
Changi Tarah Jaandi Main Tere Wargeyan Nu
Bade Hi Oversmart Hunde Aa
Na Na Na Na Na
Na Na Na Na Na…
Dress Paya Karo Tussi Jean Chhadd Ke
Tussi Taan Ji Aivein Ghabrayi Jaane Ho
Chab Chab Chewing gum'an Di Dheri La Deti
Cute Jeha Face Kyun Ghatayi Jaane Ho
Lokan Nu Ki Pata Aa
Beauty Kihnu Kehnde
Beauty Parlour Chon Banda
Husan Ajj Da
Teriyan Ankhan Haaye Billiyan Oh
Baar Baar Dekhne Nu Jee Karda
Chubby Chubby Cheek Tere Pattne Repeat Tere
Ki Karaan Dass Tera Gugglo Jehi Da
Davy Thonu Ni Pata Kinna Hunda Embarrass
Jadon Double Chin Te Painda Watt Ve
Mundeyan Da Focus Karke Blur Mainu
Ho Jaanda Patle Jehe Lakk Te
Hunn Main Ki Karaan
Ki Dubb'ke Maraan
Jealousy Ne Laini
Meri Jaan Mundeya
Aivein Mainu Maske Na La Mundeya Oh
Gallan Mithiyan Ch Na Phasa Mundeya
Changi Tarah Jaandi Main Tere Wargeyan Nu
Bade Hi Oversmart Hunde Aa
Na Na Na Na Na
Na Na Na Na Na…
Khande Peende Ghar De Tussi Lagde
Ohi Taan Ji Gall Main Nai Lagna
Cake Chocolate Khaya Karo Dabb Ke
Phir Weight Mera Sau Nu Ae Jaake Lagna
Jadon Hansde Ho
Ankhan Band Ho Jaandi Aa
Oss Ton Pyara Kujh Nai Lagna
Teriyan Ankhan Haaye Billiyan Oh
Baar Baar Dekhne Nu Jee Karda
Chubby Chubby Cheek Tere Pattne Repeat Tere
Ki Karaan Dass Tera Gugglo Jehi Da
Ik Gall Mainu Samajh Nai Aundi
Tussi Mere Pichhe Kyun Ghummde
Thonu Kudiyan Ne Dendi Aa Flying
Buggeyan Tussi Mera Rasta Kyun Chunde
Ghuma Phira Ke Koyi
Gall Karni Ni Main
Gall Sidhi Main Karun
Mera Crush On You
Naale Chheti Chheti Bebe Di
Banauna Tainu Nooh
Je Eh Gall Aa True
Ajj Hi Ghar Deyan Naal
Viah Di Gall Kar Tu
Ki Pata Kal Nu Tu Mukar Jaave
Samay Da Taan Bhora Ni
Vassa Mundeya
Teriyan Ankhan Haaye Billiyan Oh
Baar Baar Dekhne Nu Jee Karda
Chubby Chubby Cheek Tere Pattne Repeat Tere
Ki Karaan Dass Tera Gugglo Jehi Da