Iko Ik Dil Lyrics by Gippy Grewal is brand new Punjabi song from movie Yaar Mera Titliaan Warga and this latest song is featuring Gippy Grewal, Tanu Grewal. Iko Ik Dil song lyrics are penned down by Happy Raikoti while its music is given by Jay K and video has been directed by Vikas Vashisht.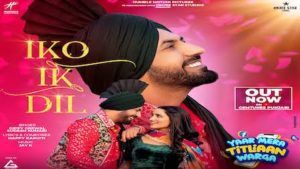 Iko Ik Dil Song Details:
Song: Iko Ik Dil
Movie: Yaar Mera Titliaan Warga
Singer: Gippy Grewal, Sudesh Kumari
Lyrics: Happy Raikoti
Music: Jay K
Starring: Gippy Grewal, Tanu Grewal
Label: Gem Tunes
Iko Ik Dil Lyrics
Tere Vichon
Pehlan Wala Yaar Nai Dissda
Aa Cheel Wargiyan Ankhan Chon
Tainu Pyar Nai Dissda
Pyar Nai Dissda..
Oye Mere Naal Tod Mundeya
Khaure Kithe Naate Jod Laye Aa Tu Ve
Iko Ik Dil Kudi Da
Oh Vi Lakh Vaari Tod'da Ae Tu Ve
Iko Ik Dil Kudi Da
Oh Vi Lakh Vaari Tod'da Ae Tu Ve
Iko Ik Dil Kudi Da
Oh Vi Lakh Vaari Tod'da Ae Tu Ve
Taur Naal Zindagi Jeona Aa
Ni Main Din Ni Katt Da
Naughty Aa Nature Balliye
Ni Tere Desi Jatt Da
Sohni Cheez Da Kasoor Nakhro
Jehdi Aape Nigaah Chadh Jaandi Aa
Meri Ankh Hi Ladaki Baahli Aa
Har Kise Naal Ladd Jaandi Aa
Ho Ankh Hi Ladaki Baahli Aa
Har Kise Naal Ladd Jaandi Aa
Meri Ankh Hi Ladaki Baahli Aa
Har Kise Naal Ladd Jaandi Aa
Ho Chhalliyan Chhalliyan Chhalliyan
Chhalliyan Chhalliyan Chhalliyan
Ni Teri Meri Gall Na Koyi
Ho Teri Meri Gall Na Koyi
Ni Saanjh Naina Di Jeon
Kanak Naal Balliyan
Umran De Vaade Karke Ve
Kade Hath Ni Chhodi De
Kudiyan De Dil Sohl Hunde
Mundeya Nai Todi De
Mere Hanjuan Nu Moti Dass Ke
Pher Ankhan Vichon Rod'da Ae Tu Ve
Iko Ik Dil Kudi Da
Oh Vi Lakh Vaari Tod'da Ae Tu Ve
Iko Ik Dil Kudi Da
Oh Vi Lakh Vaari Tod'da Ae Tu Ve
Ho Vaili Bande Kole
Jiddan Gun Zaroori Aa
Zindagi De Vich Mithiye
Thoda Fun Zaroori Aa
Nai Taan Payi Payi Kheer Nakhro
Haan Payi Payi Kheer Nakhro
Saali Chulle Te Hi Sadd Jaandi Aa
Iko Ik Dil Kudi Da
Har Kise Naal Lad Jaandi Aa
Meri Ankh Hi Ladaki Baahli Aa
Iko Ik Dil Kudi Da
Oh Vi Lakh Vaari Tod'da Ae
Ho Ho Iko Ik Dil Kudi Da
Har Kise Naal Lad Jaandi Aa
Har Kise Naal Lad Jaandi Aa